Que-Tensils Apparel Pre-orders!
We're excited to be taking preorders for our range of Tees and Caps for Men, Women and Kids.
Preorders are open until Wednesday 22nd November so get in quick so you don't miss out!
View the range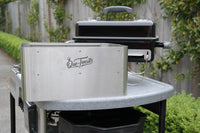 GA Royale Riser
No one can deny how good the Go-Anywhere barbeque is. But now with the Que-Tensils GA Royale Riser you really can't get a more flexible, functional barbeque. Packed with features the GA Royale Riser means you get the best of everything - a barbeque that can cook almost any cut of meat.
Find out more
What our customers have to say
Hi Just a quick email to thank you for your recent delivery.
I live in Brisbane Australia and ordered the riser, offset plate and a rotisserie basket. I ordered on Saturday and the items were at my door Friday which is just unbelievably awesome. I can't even get items delivered in the same city as me that quick.
I also want to touch on the quality of the items, brilliant and built with such a high quality, love them.

I don't usually write back or do reviews but this time was a great experience for me the customer so thank you.

Brendon, Brisbane, Australia
All my goodies have arrived... man what wonderfully made products. After seeing them on Low n Slow Basics on YouTube, I was stoked to see they were actually made right here in NZ (go NZ made!!!).

Tim, Kapiti, NZ
I just wanted to give you feedback regarding the purchases I have received and now used. The build and engineering quality is fantastic. Everything is solid and feels like its going to certainly outlast me.

I will most certainly buy from you guys again as I feel these are special BBQ tools you share! Keep up the quality work and products.

Hayden, South Australia
This is a quick note to let you know that my gear arrived yesterday. My first impressions from opening the box was very positive. Everything looked great with a very high standard of finish and I found it to have a supreme fit too. I am really rapt with everything that I've bought and can't wait to get a chance to use it this weekend. Your products are super impressive.

Paris, Vic, Australia
Just a quick note to say thanks the item was delivered today ahead of schedule. Great service and great delivery option. Thanks again

Phil, NSW, Australia
I just wanted to say thank you for the Go-Anywhere offset plate. It arrived here in Brisbane ok and I was impressed with the quality and manufacturing.

I've used it in my Go-Anywhere 3 out of the last 5 nights!

Keep up the good work.

Peter, QLD, Australia
Hi Alex and Que-Tensils team! Wanted to say massive thank you for both your service and quality of goods I received in my recent purchase. The riser, grill plates and Espetosul mounting brackets are high quality, well made and look awesome. On top of getting good gear I'd made enquiries through Que-Tensils website about getting my kit into Sydney. Alex responded quickly, helpfully and even accommodated a special arrangement to get me sorted out. Thanks for the excellent service and quality parts – highly recommend Alex and Que-Tensils products.

Christopher, NSW, Australia
Que-Tensils range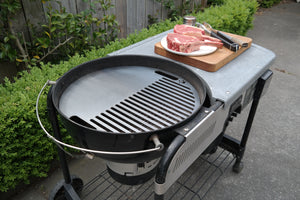 Kettle Plates
Que-Tensils kettle plates are designed to fit with Weber 57cm Kettle barbecues. They extend the range of uses for your Kettle, bringing lots of versatility.
Shop Kettle Plates
GA Plates
Que-Tensils GA Plates are designed as half plates to be mix and matched and provide extra flexibility for your Weber GA.
Shop GA Plates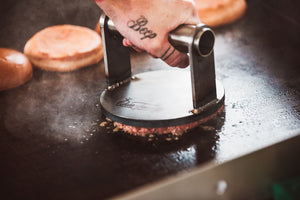 Accessories
The Que-Tensils range of accessories includes a burger smasher/steak weight, charcoal baskets and adjustable off-set plate.
Shop accessories