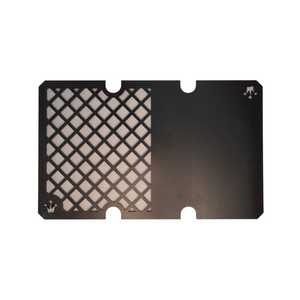 The Que-Tensils Masterbuilt Portable Hot Plates come in a half-and-half arrangement as a direct replacement for their proprietary grill plate. 
You can gain more flexibility without choking off the heat, which means you could be grilling a steak and a burger at the same time. 
Hot Plate (or plancha) best suited to smash burgers, bacon & eggs, sausages, vegetables - a barbecue all-rounder
Rotate the item 180deg to change the arrangement
Custom made in New Zealand from mild steel
Designed to fit a Masterbuilt Portable
The hot plate replaces the proprietary grill plate
All of our plates are made of mild steel and we highly recommend they are seasoned before use. Once seasoned and with the correct care, your plates will last a lifetime.
This is an aftermarket product and not an official Masterbuilt item.