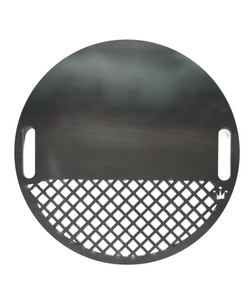 Get the best of both worlds, with the Que-Tensils half steak plate/ half hot plate. Designed to fit an Oklahoma Joe Bronco and Large BGE (Big Green Egg), it is custom made in New Zealand from heavy duty, 5mm mild steel and provides a hot plate and grilling option, so you can smash those burgers while heating buns, frying onions and getting perfect grill marks on steak.
As our plates are made of mild steel we highly recommend they are seasoned before use. Once seasoned and with the correct care your plates will last a lifetime.
This is an aftermarket product and not an official Oklahoma Joe or Big Green egg item.